Campers – Interested in borrowing a tandem bicycle?
During the weeks of the year when camp is not running,  our tandems are available to you on a no cost loan basis!
If you are interested in borrowing a tandem bicycle, please contact: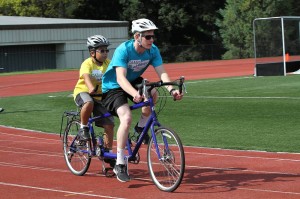 Norm Smith, Program Coordinator
email: cyclenorm@nycap.rr.com
Cell or text: 518 441-6010
Tandem Bicycle Loan Program Rules:
The bike can only be ridden by parents and riders who have been checked out by the Program Coordinator.
Both riders must be wearing a secured helmet before mounting the bike.
Tire pressure should be checked each time the bike is ridden.

A pump compatible with Schrader valves is required.

It is not advisable to inflate at a gas station. The proper inflation is listed on the side of the tire.
Your camper should remember his/her ABCs

Check: Air, Brakes, Chain

The bike must be stored inside a garage, shed or barn. It is not sufficient to cover it with a tarp outside.
A good bike lock is recommended whenever leaving the bike unattended.
Lubing the chain is needed if the bike is ridden in the rain or periodically thereafter.
Please feel free to contact Norm if you have any questions or concerns.