Applications for Camp Abilities Saratoga 2019 are now being accepted!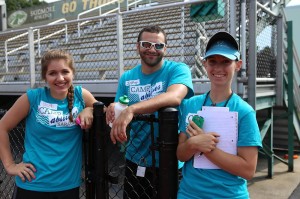 Camper, Counselor, and Single Day Camper applications for the 2019 camp may be completed using either an online form or a printable PDF file.
Please be sure to read our Eligibility Requirements to make sure that your child is eligible for camp.
Please note that there is no cost to attend Camp Abilities Saratoga.
The 2019 Daily Schedule may be downloaded by clicking the button below.
NOTE: 2019 Camper Admissions Policy
Camp Abilities Saratoga will be using a "first come, first serve" basis for its 2019 admission policy. For 24 positions, priority will be given to NY state residents until April 1, 2019.  The remaining 2 positions will be processed at the discretion of the Camp Director.
Applications received from non-NY state residents prior to April 1, 2019 will be processed on that date if openings exist.  The same  "first come, first serve" prioritization will be used.
Applications received on or after April 1, 2019 will be processed at the discretion of the Camp Director.
Note: If the camp becomes full, applicants will be placed on a wait list according to the above policy.
Single Day Camper Program
The  Single Day Camper program for children between ages 5 and 9 who are blind or visually impaired.  The program's goal is to provides the younger child with the opportunity to sample a typical day at Camp Abilities. Single Day Campers attend camp on a day during camp week.  A parent or guardian must attend with the camper as well.
Please note that the date and details for 2019 Single Day Camper program have not been finalized yet.  If interested, please contact use for more information.